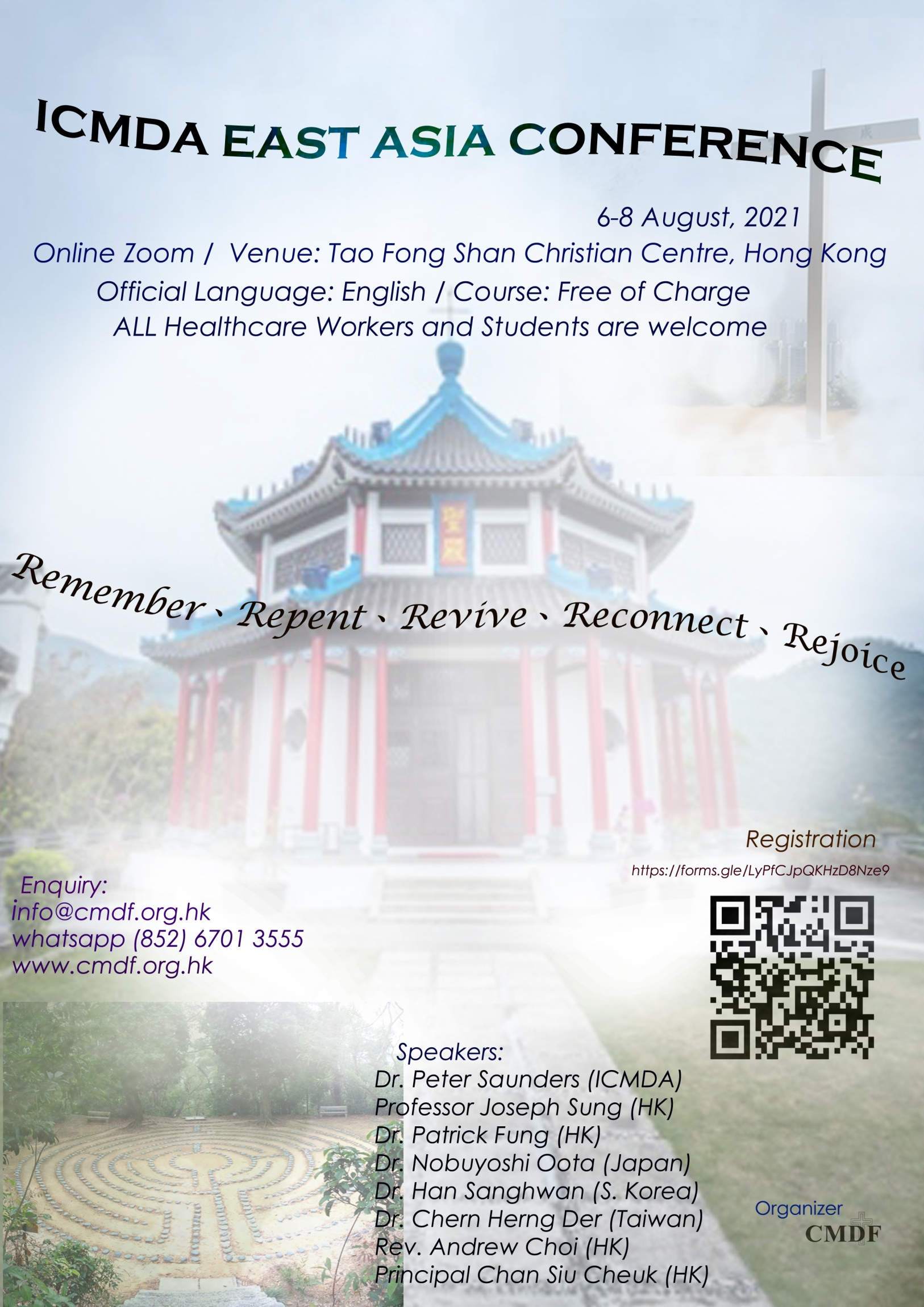 It is a great pleasure to invite our brothers and sisters in medical field to join the ICMDA East Asia Conference which to be held in HONG KONG on 6~8 August, 2021.

As a Christian medical profession in the context of today's pandemic, how can we move forward with His mission nowadays?

In reply of medical missionary calling, is the pandemic an opportunity or an obstacle to us?

For the evolution of the virus, from SARS in the past, COVID 19 today, and even the unpredicted virus tomorrow, what is the warning signal to the standing of front line medical workers?

We have invited the familiar doctor speakers to share, not only to look back, reflect on the present, but also look to the future...

1) Professor Joseph Sung (Reflection of new infectious pandemics in relation to medical profession ~ SARS, COVID 19 & What next?)

2) Dr Patrick Fung (Medical Mission ~ Past, Present & Future?)

3) Dr Peter Saunders (International calling of ICMDA to reconnect medical profession from different regions)
4) Rev. Andrew Choi (reply to the topic " to remember, to repent, to revive, to reconnect & to rejoice " )

Due to the pandemic situation, we adopt hybrid meeting so that you are flexible to join either online zoom meeting or physical gathering in Tao Fong Shan Christian Centre, Shatin and the conference price is free of charge.

ACTION now to make the online registration at:
https://forms.gle/LyPfCJpQKHzD8Nze9

a) Full or Part conference attendance is welcome,
b) The deadline for registration is 26/7 (on site) & 31/7 (online zoom).
c) The official language is in English with simultaneous Mandarin translation
We look forward to seeing you in the coming Conference.

~~~~~~~~~~~~~~~~~~~~~~~~~~~~~~~~~~~~~~~~~~~~~~

" Remember, Repent, Revive, Reconnect & Rejoice"
The International Christian Medical and Dental Association – East Asia conference is held yearly by rotation in the five East Asian regions, Japan, Korea, Taiwan, Hong Kong and Mongolia. This year is the 50th anniversary of the ICMDA-EA network. Hong Kong Christian Medical and Dental Fellowship (HK CMDF) has the honor and privilege to chair the conference from 6 to 8 August 2021 in Hong Kong. The theme is "Remember, Repent, Revive, Reconnect & Rejoice".
"You shall remember all the way which Yahweh your God has led you these forty years in the wilderness, that he might humble you, to prove you, to know what was in your heart, whether you would keep his commandments, or not." (Deuteronomy 8:2) As the Israelites were reminded to remember how God had led them out of the bondage from Egypt and lived a new life in the promise land, we are also reminded to remember the grace and blessings of God in our life especially His protection and providence for the ICMDA - EA network and our big family of ICMDA.
This year we will have speakers focus on the medical mission and the reflection about the COVID-19 pandemic. We also have speakers from Japan, Korea, Taiwan and Hong Kong sharing about their experience in medical mission, the opportunities and treats of fellowship facing the pandemic and their experience in the ICMDA – EA network in the past 50 years. We have integrated the student pre-conference into the main conference. We have two medical students from Hong Kong to share their calling and commitment in serving Christian Zheng Sheng College during their gap year – an NGO established with an aim to correct problematic students with drug addiction and other problems using life education.
We have the privilege to hold this conference in Tao Fong Shan Christian Centre. We hope that you can join this conference in the midst of your busy life especially with the global influence of COVID-19 pandemic. We need a quiet time in a quiet place for worship, retreat, reflection and reconnection with God, people, society and the world among our diversity in culture but a unified Christian world view. Let us witness together the beauty of unity in diversity embraced by the love of God.
Please take action by registration:
https://forms.gle/LyPfCJpQKHzD8Nze9
Due to the uncertainty of COVID-19 pandemic, the conference is held in a hybrid manner, both in the Tao Fong Shan Christian Centre with simultaneous zoom transmission. The official language is in English with simultaneous Mandarin translation.
Please pray and prepare your heart for this spiritual feast in Hong Kong!
In Christ,
Dr. Edward Sitt,
Chairman, Organizing Committee